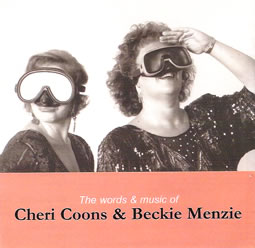 As songwriters, Beckie Menzie and Cheri Coons received a 1999 AFTER DARK Award for 'ÄúOutstanding Music & Lyrics'Äù and a Jefferson Citation nomination for 'ÄúBest New Work'Äù for the musical 'ÄúFemale Problems,'Äù produced by Chicago'Äôs Pegasus Theatre. Their songs have been recorded and performed by numerous cabaret acts across the country including Tony Award nominee Sharon McKnight's award winning show "Ladies, Compose Yourselves.
They were selected to perform one of their original songs "One Woman's Story" at Carnegie Hall in Michael Feinstein's Now & Then Series. And two of their songs were featured in the Chicago Humanities Festival ASCAP night.
Below are titles available for sheet music purchase. All songs are $5.00 each (includes shipping) and come with piano transcriptions unless noted as a chart only. You can hear a sample of a few of the songs by clicking on the links. You can also purchase a songwriter demo CD that has 15 songs on it for $15.00 + shipping.