"One of the most compelling duos in cabaret today!" – Chicago Tribune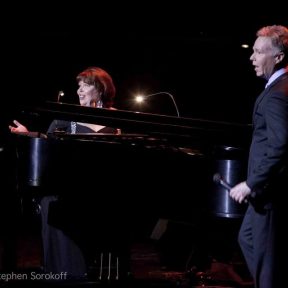 One of cabaret's most in-demand duos, Beckie Menzie and Tom Michael offer a unique blend of whimsy, nostalgia and unquestionable talent that translates into pure entertainment. Their imaginative musical twists on jazz favorites, standards, contemporary pop, Broadway show tunes and film gems, have won them audience and critical acclaim across the country and around the globe.
Hailed by Cabaret Scenes Magazine as one of the "Top Ten Cabaret Acts," Menzie & Michael have appeared on some of the country's most prestigious stages, including New York's Carnegie Hall and Lincoln Center. Their recording efforts have been praised by Billboard Magazine, BackStage, Show Business Weekly and Playbill and their latest CD, "Better Two-gether," was hailed by critics as "magic," "sensational," and "…the year's best recording."
In what they call a "musical marriage," Menzie & Michael delight audiences with their rare chemistry, inventive arrangements and genuine love for music and for one another.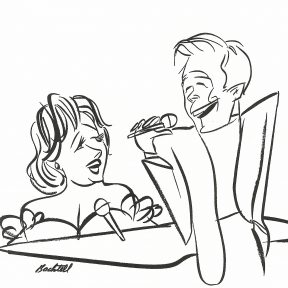 Menzie's rich voice and expert piano stylings sizzle on everything from sassy swing to smoky torch songs. She is a three-time winner of After Dark Chicago's "Outstanding Cabaret Artist" award, the Chicago Gold Coast Cabaret Award winner, and The Chicago Tribune called her "indispensible to Chicago Cabaret." Beckie was featured in Michael Feinstein's "Now & Then" Series for her Carnegie Hall debut and has two critically-acclaimed CDs.
With a voice that Billboard Magazine describes as, "…a revelation," Michael's warm, expressive style and charismatic tenor breathe new life into cabaret standards and reveal why BackStage Magazine has called him "one of the most striking singers to emerge in the last few years." His most current solo CD, "Written in the Stars," received international critical praise and was named "Best CD of the Year" by ShowBusiness Weekly Magazine, After Dark Chicago and WDVR-FM radio.
Together, their playful, passionate performances produce what critics have called "sizzling," "pure brilliance," and "cabaret at its best!"